We've a few extra solutions to help keep your home warmer and make your insulated loft more useful …
Our primary services are CosyGlazing secondary glazing for period windows, draught proofing, loft insulation, sloping ceiling insulation and floor insulation. However, for customers who engage us to provide any of these services, we also supply additional energy saving products and services. Ask our team to advise you on the cost of these further methods for keeping your period home warmer.
High specification replacement windows
If your original windows are too far gone to restore (see our page on restoration), we can also fit beautiful, new, high specification windows that will match the others in your period home.
As you'd expect, we choose the best: they're made from PEFC certified, sustainably grown European oak. When fitted, their double glazing panels have the benefits of warm-edge spacer bars, low-E glass, argon gas and the optimum 16mm void which results in a window with the best sustainability, durability and insulation values available.
Our experienced joiners have developed windows with the minimum timber and maximum glazed areas possible while meeting building regulations, and we match them to the existing mouldings in your property to maintain the original aesthetic.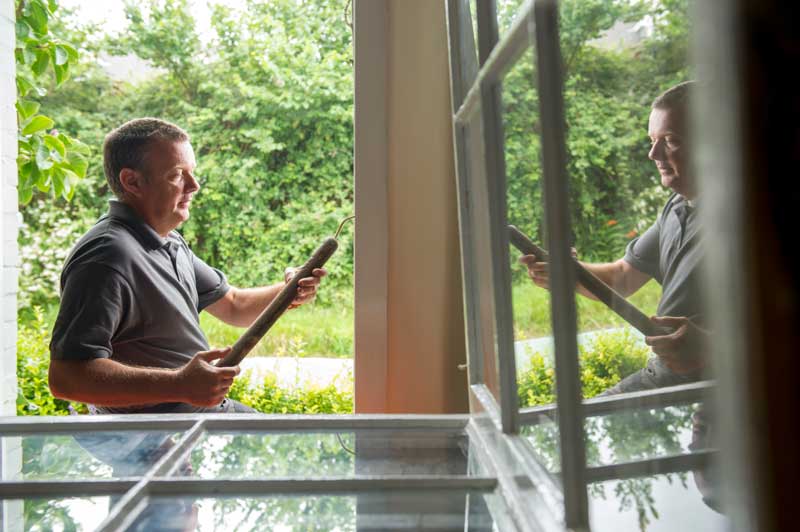 LoftZone StoreFloor loft flooring system
Our super-thick sheep's wool loft insulation is the equivalent of putting a cosy hat on your home, but it does make it difficult to use the loft for storage purposes. You certainly don't want to put items on top of your insulation; research from the National Physical laboratory shows that squashing insulation doubles the heat loss. We've developed a solution with our unique system, LoftZone StoreFloor.
We can quickly construct a lightweight, high-strength floor above the loft insulation, so you can still store your suitcases in the loft – but without reducing thermal efficiency.
The strong, simple design uses galvanised steel cross-beams – onto which boards are screwed – along with recycled plastic tri-supports and uni-supports which screw into your joists and carry the load.
The cross-beams slide along the top of the tri-supports which solves the common problem of variable spacing between joists in older properties. Lighter, faster and cheaper to install than timber systems, it also promotes airflow and therefore prevents condensation.
Another reason we've chosen this system is because it doesn't contain chemicals which damage electrical cables – unlike most rigid insulation materials.
Radiator enhancers
You can enhance the heat being produced by your radiator and stop some of it disappearing into the wall by using wall reflectors that slide down behind the radiator. They're hidden, simple to install, inexpensive and estimated to reduce energy use by an additional 7 per cent. Install these throughout your home and in a single year you'll find you make significant savings.